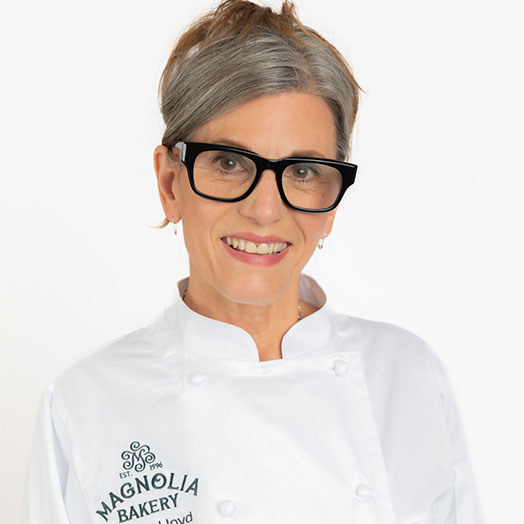 Biography
Bobbie Lloyd
C.E.O. + Chief Baking Officer
Since joining the Magnolia Bakery family in 2006, Bobbie Lloyd has played an integral role in expanding the iconic bakery brand from its original location in New York City's West Village to locations worldwide, and has continuously sought and developed new avenues for brand growth. As the... READ MORE
Bobbie Lloyd
C.E.O. + Chief Baking Officer
Since joining the Magnolia Bakery family in 2006, Bobbie Lloyd has played an integral role in expanding the iconic bakery brand from its original location in New York City's West Village to locations worldwide, and has continuously sought and developed new avenues for brand growth. As the company's C.E.O., Bobbie is keen to identify new channels that will enhance the Magnolia Bakery experience in person and online.
As Chief Baking Officer, Bobbie brings the homemade essence of Magnolia Bakery to customers through the creation of new products and the perfection of old classic American dessert favorites. In October of 2020, Bobbie released her first cookbook, The Magnolia Bakery Handbook: A Complete Guide for the Home Baker.
Born and raised in Chicago, Illinois, Bobbie knew from an early age that cooking was her passion after taking her first cooking class at the age of eight. She cultivated her formal training at Boston's famed Modern Gourmet Cooking School, while continuing to develop her trade by working at some of Boston's top restaurants. Only two years after finishing her culinary training, Bobbie impressively became a founding member and co-owner of American Accent, a critically acclaimed restaurant/bakery/café in Brookline, MA.
Bobbie has extensive experience in the hospitality field, including as a private chef for Mr. and Mrs. Calvin Klein, she was part of the acclaimed Union Square Café management team that took the restaurant from a 2 star to a 3-star restaurant, held both operations and management roles with Prix Fixe, The Screening Room, and Tribeca Grill. She was co-owner and operator of Au Café and in addition to her operations roles, Bobbie has honed her retail business experience with "Soup to Nuts Consulting;" co-owner and operator of It's a Wrap, NYC's first gourmet wrap sandwich parlor; and her demanding role as controller for The Beanstalk Restaurant group (The Red Cat, The Harrison, Mermaid Inn and PACE).
READ LESS